Karachi, known initially as a small coastal fishing village started its journey in the 18th century and has now developed into a modern bustling hub of commerce and trade. And through the advancement of trade routes to Arabian Peninsula, Europe and Far East, colonization and partition from India, Karachi developed into a rich melting pot of cultures, traditions, architecture, and cuisines from all around the world.

The city has much to offer for the avid business traveler, whether one is in the mood for some adventure on the high seas, to take in the history and culture, or simply relax and unwind with some of the best culinary offerings from around the region.
TOP 5 PLACES TO VISIT IN KARACHI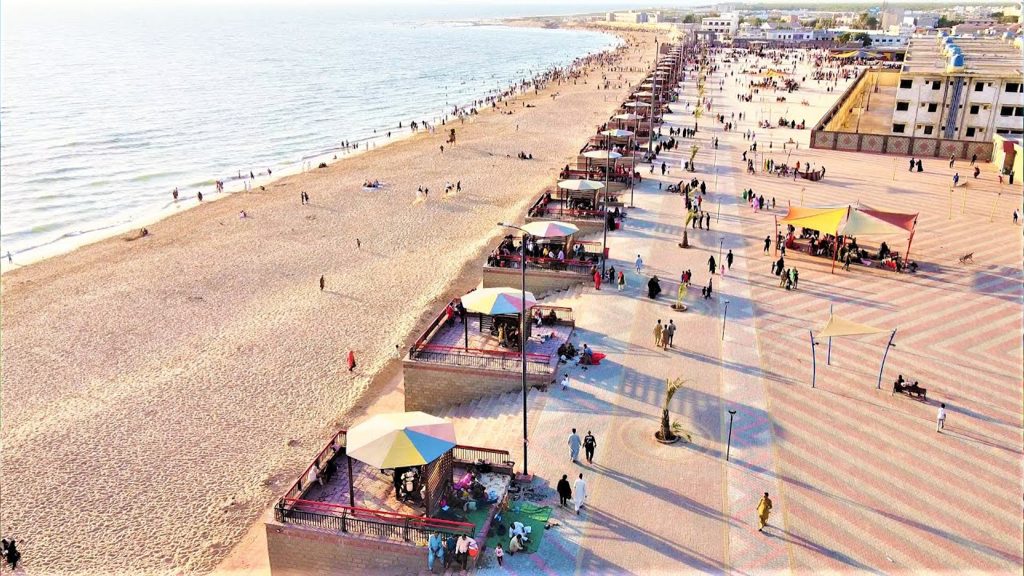 Manora is a small peninsula that forms a protective barrier between Karachi Harbour to the north and the Arabian Sea to the south. The entrance to Karachi was once guarded against pirate raids by the Manora Fort built in the 1790s, which was later upgraded by the British, and Pakistan's government. Keeping in view the daily turnover of tourists and travelers, the Government has upgraded the infrastructure of the island (through construction of driveways, restaurants, hotel accommodations, golf course, kids' play area etc.) and has equipped it with modern features (recreational facilities and watersports activities).
Churna Island and its Water Sport
Located in the Arabian Sea, the island offers an incredible view of the sea along with its popular Snorkeling and Scuba diving facilities.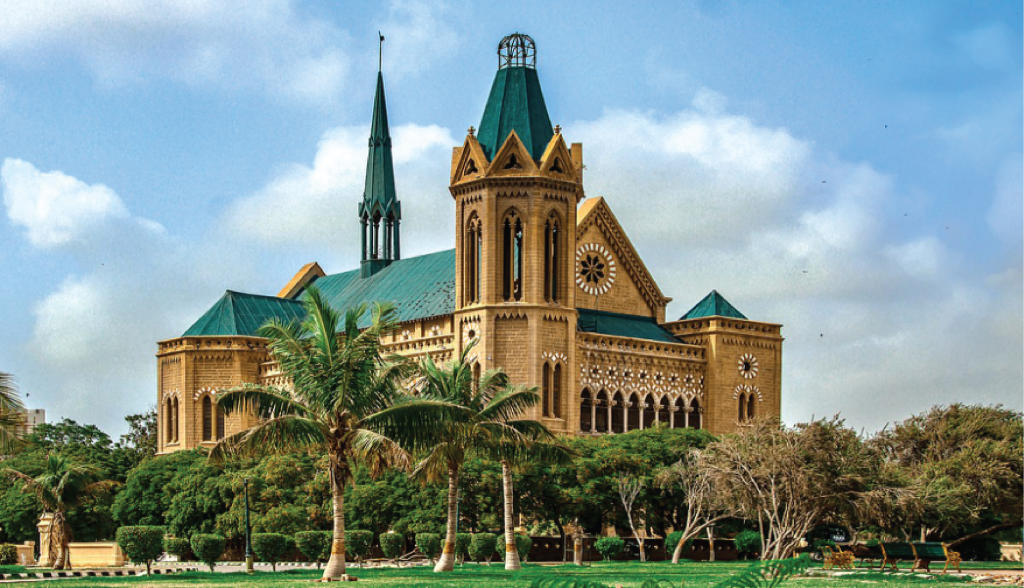 Built in the Venetian-Gothic style, the building offers a blend of British and local approach to architecture. Completed in 1865, Frere Hall was originally made to be Karachi's town hall, but now it serves as an exhibition place, having a library as well as a gallery full of paintings by Pakistan's iconic artist Sadequain.
Situated at 29 km (18 mi) east of Karachi, these tombs were built between 15th to 18th century. The site is a UNESCO World Heritage Site, which has tombs of the ancestors of a local tribe. The tombs are constructed through the usage of huge sandstone slabs, which are carefully placed to form a finessed pyramid shape. The slabs were then meticulously carved with complex patterns, drawings and relatable scenes.
Mazar-e-Quaid, Jinnah's Mausoleum
Mazar-e-Quaid also known as Jinnah Mausoleum or the National Mausoleum, is the final resting place of Muhammad Ali Jinnah, the founder of Pakistan. Clad in white marble, the Mausoleum's structure can be traditional monument of a modernist period, and is one of the must-to-visit places while in Karachi.
SOUVENIRS TO BUY IN PAKISTAN
A shawl is a beautifully woven piece of clothing, having embroidery of contrasting colors, loosely worn over the shoulders, upper body and arms, and sometimes also over the head. Pakistan has a famous range of hand-crafted shawls that are known for their fabric and quality across the world. ​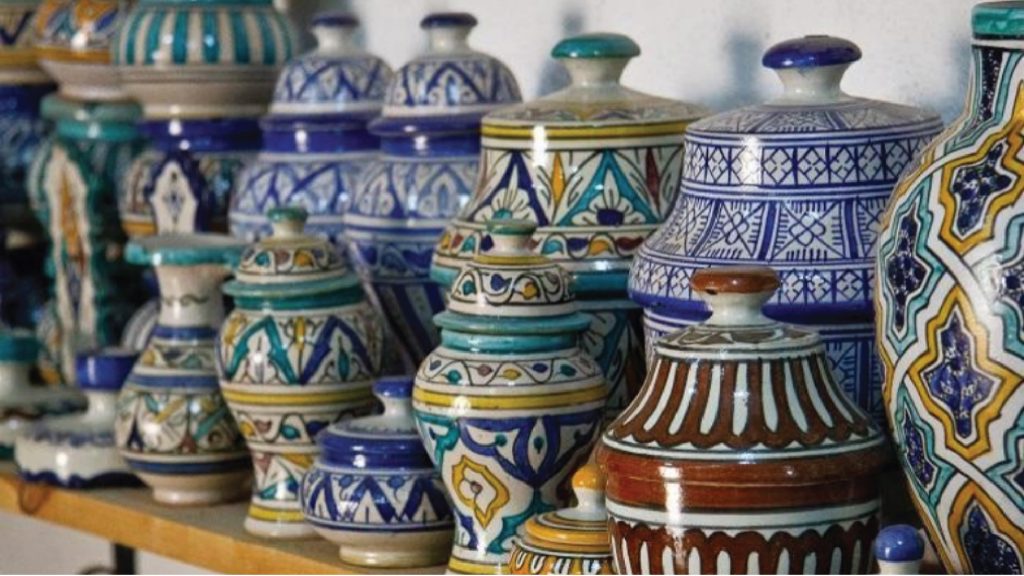 When it comes to art and crafts in Pakistan, pottery stands out as a uniquely appealing art. Pottery is also called ceramic art, making objects ranging from small decorative pots to huge vessels and vases. In Pakistan, pottery is very famous in the province of Sindh, home to ancient artisans called 'Kashigars' popular for making pots and tiles of various shapes, earthenware and glazed ceramics.
Rug/carpet weaving is an essential part of Pakistani culture and Pakistani art. Pakistan's hand knotted rugs are very popular aroung the world, and can sit in virtually any home decor setting. Pakistan exports 90% of the hand knotted carpets around the world, and can be a memorable souvenir to take back to your homes from Pakistan.
Traditional Cotton Garments
Pakistan is the land of silver fiber as the most ancient samples of cotton and cotton clothes are found in this region. Khaddar, which is prepared from cotton fiber, is very popular for daily wear. This fabric absorbs heat. It's usually worn during winters or in northern areas. The province of Sindh is also famous for Ajrak, which is a beautiful multipurpose cotton garment with block printed design.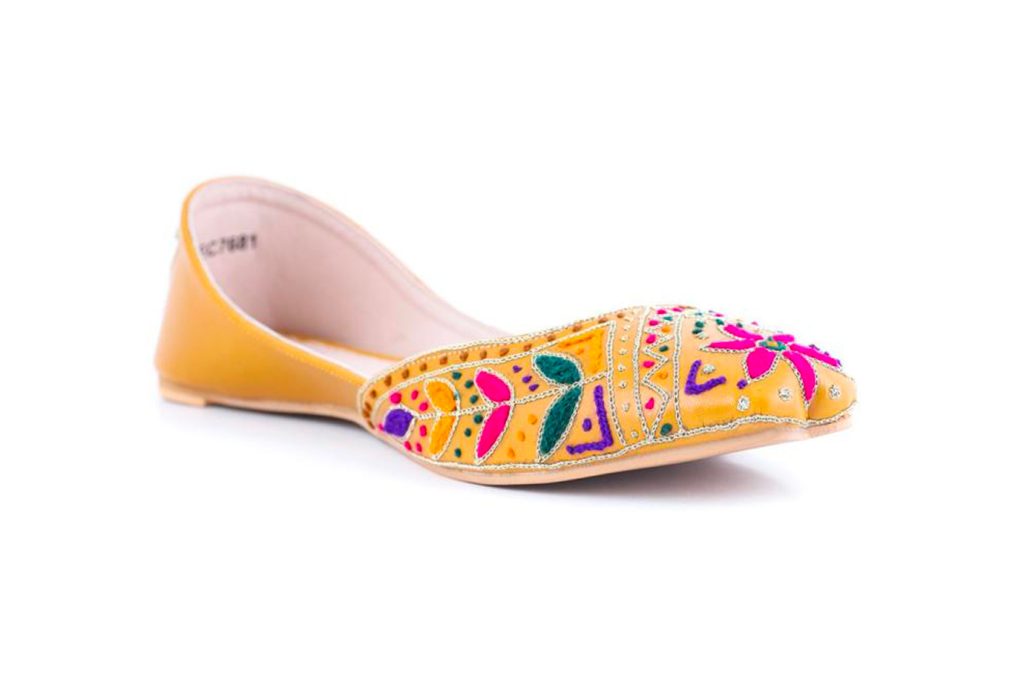 Khussa is counted among the most famous hand-crafted products in Pakistan. A timeless piece of Pakistan's cultural heritage and tradition, Khussa is a type of leather footwear that has been around for centuries. The uppers are made of one piece of leather or textile embroidered and embellished with brass nails, cowry shells, mirrors, bells and ceramic beads.
Local Delicacies is a sweet dish, made from milk, flour, wheat, salt, sugar, lemon, and ghee, a type of buttermilk. The mixture is made to be thickened and filled with nuts, such as pistachios, almonds, and walnuts, are added to the mixture. Various flavours and herbs are added in it which provides intense aromatic quality to it. It is sold commercially in colorful tin packs, and is mostly used as a gift, and souvenir in Pakistan.
Nimko is a Paksitani snack made of a mixture of saltish ingredients, such as peanuts, chickpeas, corn flour, legumes etc. The mixture is then deep-fried in the form of small flakes. Nimko is among the most common appetizers served to guests along with tea and also makes for the perfect delicacy for light snacking.
Pakistan's wooden handicrafts portray and perfect combination of value and art, and have each color and style. These handicrafts are available in various forms like designed wooden jewelry boxes, pieces of home décor, wooden vases, wooden lamps etc.
Himalayan salt is rock salt mined from the Punjab region of the Indus Valley Plains of Pakistan. It is also used to make "salt lamps" that radiate a pinkish or orange hue, manufactured by placing a light source within the hollowed-out interior of a block of Himalayan salt. It is claimed that these lamps can boost mood, improve sleep, ease allergies, help people with asthma breathe better, and clean the air, among other benefits
Truck art in South Asia is a popular form of decoration, with trucks featuring elaborate floral patterns and calligraphy. One can get different items like mugs, miniature truck models, plates, decorative pieces etc with truck art on them.
Local cuisine, Seafood, Barbecue, Asian, Healthy, Middle Eastern.
Special Diets Vegetarian Friendly, Vegan Options, Halal, Gluten Free Options
Cuisines: Mediterranean, European SPECIAL DIETS Vegetarian Friendly, Vegan Options, Halal, Gluten Free Options
Cuisines French, Cafe, European SPECIAL DIETS Vegetarian Friendly, Vegan Options, Halal, Gluten Free Options ​
Cuisines: Barbecue, Asian, Pakistani, Pizza SPECIAL DIETS Vegetarian Friendly, Vegan Options, Halal